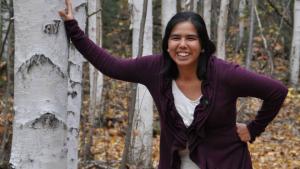 Tuesday, September 25, 2018
Each month, we will be featuring an interview with a Native Ministries staff-- our inaugural interview features Shaelene Holstrom, a new staff at the University of Alaska, Fairbanks.
How did you feel called to your work with Native Ministries/IV?
My first year of college, I noticed not many Native students were involved at all on campus, but I knew they were on campus. I was sad to see some of my friends leave college their second semester because they missed home or they had a hard time transitioning into the college life. I thought that InterVarsity would be a great group to be a part of to make a change in Native students lives by community, studying scripture, travel, and being transformed by Jesus. I felt called by God to help Native students live a life full of love, peace, joy, kindness, forbearance and goodness (Gal. 5:22) and to live a life dedicated to Jesus and to share it with their friends, families, and communities.